Why is it worth doing now dental implants in our clinic in Drogheda, Ireland?
How is it possible, that for less I get the same quality, if not higher?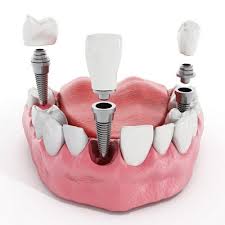 They seem to be two equal things, but in reality they are not.
Unfortunately, most dental patients only compare prices of dental implants without knowing about the cost of dental implant systems that cause the difference between the prices.
However, the cost of the dental implant means all expenses incurred by the clinic to insert the dental implant.
The cost of implants includes:
The price paid to the manufacturer for the dental implant (screw )

The dental clinic rental fee

Services : electricity, heating, telephone, internet, etc.

Salaries

Maintenance, cleaning.
The price of dental implants includes:
The cost of dental implants

The profit of the clinic
What do we do in our clinic? We keep the costs low and set the profit to a reasonable level! As a result, the price of dental implant and the price of medical services are also reasonable, while the materials used are of superior quality!
It is known that a complete dental implant system consists of 3 parts :
dental implant (screw)

healing screw

abutment
In most of the clinic's price lists the price of each component is shown separately: the dental implant, healing screw and the abutment. This causes that the prices seem lower, not to scare the patient from the beginning. More than that, many clinics, indicates the prices for the surgery separately.
Titanium implants
Standard Implant: 725 EUR!
Premium Implant: 925 EUR!
Naturally, the prices of dental implants are very different from country to country. At our dental clinic in Hungary, you can find some even more favorable ones. For Dublin area dental treatment visit our Dublin implants page. Choose Hungarian expertise for healthy smiles: dental care in Dublin or Budapest.
For appointments please contact us:
E-mail: dental@laportabp.net
Phone: 085 777 58 57