Hungarian dentist awaits dental patients near Dublin
Save time & money, then Enjoy Your Smile!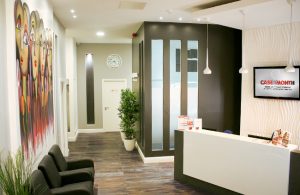 In September 2013, we have opened our dental clinic in Drogheda, Ireland. We recommend our services primarily to those future Irish patients to whom time is important, price is important and the perfect quality is mandatory!  We offer affordable dental implantology prices and high quality of dental implantation expertise performed by a Hungarian dentist in our clinic in Drogheda, within of easy reach from Dublin and some major cities around.
Save time in many ways:
Because there is no need to travel abroad, we are just about 40 minutes from Dublin, Blanchardstown and Tallaght, only 90 minutes from Carlow, and just 2-3 hours from Limerick, Cork, Ennis, Douglas, Galway, Waterford, etc.  As you can see, within Ireland from almost anywhere, you can reach us easily, quickly, safely, mostly in motorway.
Because we give appointments within a short time period and we have short deadlines.
Because you don't need vacations to visit our clinic to have your teeth done.
Save money in many ways:
Because prices are extremely favorable, not much different from the dental prices in Hungary, so you easily can save up to 60-70% of the costs of your dental treatment. In this way, you can have treatments you previously not thought or dreamed that is possible.
Because it is not necessary to spend on accommodation, we are within an easy reach.
Quality is mandatory:
The outstanding knowledge and experience of our dental team, led by Dr. Róka in itself is guarantee of the perfect result. And additionally the premium quality of materials used like NobelBiocare, Ankylos, Sgs and AlphaBio dental implants systems or full ceramic, zirconium, metal free crowns, dental bridges and dentures, is also providing security for our patients.
Security:
Long time guarantee!
Pre care – Dental treatment – After care in Ireland!
Simple and fast:
Just give us a call or send us an e-mail – Ask for a personal consultation – We prepare your dental treatment plan and price offer based on your X-ray (if you don't have, we will make one at our clinic!) – We adjust the details according to your expectations – Start the treatment!
Full mouth dental implants – Is it affordable?
When you have lost nearly all of your natural teeth you may wonder if there is an affordable solution to have a full mouth implant-supported denture. You can save quite a lot at our dental clinic!
Have your teeth done in Drogheda-Ireland now! Seize the opportunity, experience our high quality dental services and Enjoy Your Smile!
For appointments please contact us:
E-mail: dental@laportabp.net
Phone: 085 777 58 57