Can I afford a full dental rehabilitation, a new fixed denture?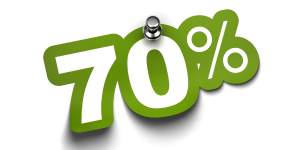 We don't now the answer, but we do everything to make this possible for you at home and now! In our dental clinic in Drogheda we provide the latest dental solutions and materials for almost at the Hungarian dental prices. Complete dental rehabilitation in Budapest and Drogheda.
Full mouth dental implant work with All on 4 implants
Alternatively, you can have the All-on-4 dental surgery work done in our dental clinic in Hungary. The price tag for a full mouth reconstruction (lower and upper jaw) may come up to €11.500 or somewhere in this region. Please make enquires about full mouth dental implants cost performed in Budapest. If you have all of your teeth missing, an implant-supported full bridge or full denture can be made to replace them and you will regain your healthy smile. Dental implants will replace your lost natural teeth as well as some of the roots. No doubt, 60-70% more favorable quotation than the usual prices in Ireland!
Which fits better: Fixed or Removable Dentures?
Before making a decision about having a fixed bridge or a removable denture, there are several points of view what need to be considered. One of these is the quantity and the quality of the remaining bone.

If the remaining bone is sufficient for dental implantation, in a normal case after the extraction or after the teeth lost it is recommended to have fixed bridge or fixed denture. From the other side, if the bone loss is excessive but still OK to place at least 4 implants to the front region, then the recommended solution is the removable or hybrid denture, also called overdenture.
Full replacement with fixed denture over dental implants
Fixed dentures are fixed over at least 6 implants. (When is possible, to even more implants.) After the extraction usually 3 month of recovery or healing time is requested. When the bone is optimal the implants are placed to the prepared bone. After a 3-4 month healing time the implants are integrated in the bone and the procedure can continue.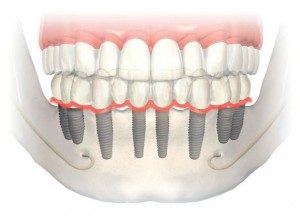 The following step is to prepare the impression and then the final crowns or denture. These can be porcelain fused to metal crown/denture or can be made from metal free material like the zirconium crown/denture or full porcelain crown/denture.
Removable denture (overdenture)
Overdenture, hybrid denture, removable denture all means a kind of removable denture. The denture consist of the artificial teeth attached to an artificial plastic base usually pink coloured, equivalent to the colour of the gum. The invisible clips which connects the denture to the implants can be find in the inner side of the denture.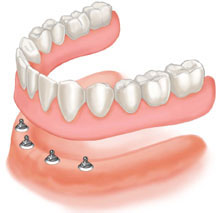 This solution keeps the denture in place during speaking and eating. It is an absolute aesthetic and stable solution supported by dental implants, which also replace the lost gum.
For appointments please contact us:
E-mail: dental@laportabp.net
Phone: 085 777 58 57